Linux Installfests
---
What Is An Install Fest?

An Installfest is a free workshop held by Linux user groups like ours. Computer users get together to help each other install and configure the Linux operating system. Simply bring your personal computer to an installfest and people will help you get Linux up and running on it, for free! Note: You must RSVP first; see the checklist below.

IF Schedule

Installfests take place on various days, sometimes Friday evenings, sometimes all‑day Saturday or all‑day Sunday. There's currently no regular schedule.

Any upcoming events are listed below:

Please arrive on time. We like to stagger when installees arrive, but if you arrive past later than 3 hours prior to the Installfest's end, we cannot help you.

Typically, installing Linux from scratch takes about 3 hours. However, be prepared to spend the entire day.
---
Who Organizes Them?
Volunteers from the LUGOD, the Linux Users' Group of Davis organize and run our Installfests. We also often run Installfests with the Computer Science Club at UC Davis.)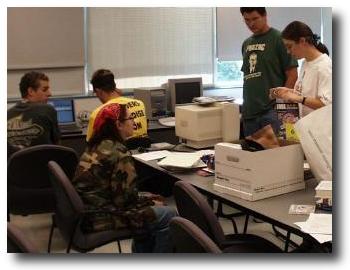 (For more photos from Installfests, check our Photos page.)
---
Where Are They?
We hold Installfests at various locations. Check the location carefully to find the directions. Sometimes we hold them at N Street Cohousing near downtown Davis, thanks to sponsorship by LUGOD member Dan Fiske. Sometimes we co-run an Installfest with the Computer Science Club at UC Davis, with help from Sebastian Ng and Nathaniel Brandes, which are typically held in Room 1003 of Kemper Hall on the UCD campus. Sometimes we hold them at the PES building on UC Davis campus.
---
How to Get Installed

Please read over the following pages:

Requirements
What kind of hardware you'll need to use Linux

Preparation
How to prepare your computer previous to an Installfest

What To Bring
Which components you'll need to bring to an Installfest

How to Help

If you'd like to help install Linux during an Installfest, or just want to drop in and watch, you can!

Subscribe to 'vox-if'
We have a mailing list dedicated to preparing for Installfests. Details from RSVPs are posted, and volunteers can discuss who's going to help with what system, and try to track down necessary information before the actual event.

How to Help
Who to contact if you'd like to volunteer, and other things you can do to help make these events successful!

If you'd like to help advertise this event, you can:

Download and print a flyer
---
Sign Up
If you wish to sign up for an Installfest...

See also: "Installfest" article at DavisWiki.