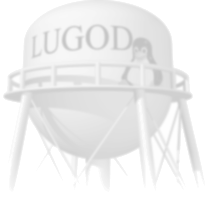 Linux Users' Group of Davis
Request for Sponsorship
Update March 2009 - The Davis Public Library no longer charges for meetings during library hours, so we are not seeking sponsorship to help cover venue costs. But thank you for your interest.
Update December 20, 2004 - Richard Mancusi, Marc Hall and Tim Riley (from Appahost) have together donated $730 to LUGOD, which should cover our meetings through 2005. Their sponsorship is greatly appreciated! Of course, if you wish to help sponsor us for meetings beyond that date, please feel free to contact us!
October 22, 2004
The Linux Users' Group of Davis is a 501(c)7 non-profit community organization whose goal is to help local businesses, non-profit organizations, and individuals learn about and utilize Linux and other Open-source Software (OSS).
Some facts about LUGOD:
Founded: January 1999
Meetings to date: 137
Meeting attendance: 20-70 per mtg.
Members: 418 (approx. 85 students)
Mailing list archive:

6 mailing lists
25,000 messages
218 megabytes

Lending library: 146 books
Our members range from programmers and system administrators to end users of all levels. Every month we hold free workshops, in which we help community members to install the Linux operating system on their computer systems. We hold meetings twice a month at our local public library on a wide range of subjects (see our past meetings page for a list of recent speakers). In addition, we regularly hold free demonstrations, classes, and maintain public mailing lists that provide free computer help to anyone in need. We have also helped install Linux-based public kiosks in the community, helped get Linux servers donated to Davis High School, and Linux and Open Source books donated to the Davis Public Library.
Recently, state budget cuts have drastically affected our library, dropping their budget by a half million dollars. The library administration is currently unable to fill empty positions, and are now looking for ways to help soften their red-ink budget by adding fees wherever they can. Unfortunately, this affects us because they will soon be charging $10 per hour for the room we use to hold our meetings. This would be $60/month -- well outside our budget. While we do receive some donations at our meetings, it is not nearly enough to cover this cost.
As you can see, our chief concern is being able to continue to provide the community with quality free services. We are looking for one of two solutions: 1) sponsors for our meetings (in which case your donation will simultaneously help the Davis Library), or 2) a meeting place in Davis (attendance varies from approximately 25-70 people depending on the topic).
We appreciate any assistance you may be able to give and look forward to hearing from you! We can be contacted by email at root@lugod.org or at our postal address:
Linux Users' Group of Davis
P.O. Box 837
Davis, CA 95617
Your support will enable us to continue to help the Davis and Sacramento communities experience the joys of OSS!
Sincerely,
Emily Stumpf
President
Linux Users' Group of Davis