Linux Users' Group of Davis - "LUGOD at the 2004 Whole Earth Festival"
LUGOD at the 2004 Whole Earth Festival
---
LUGOD had a booth at the 2004 Whole Earth Festival at UC Davis. The Fesitval took place from Friday, May 7th through Sunday, May 9th, and was held outdoors, at the UC Davis Quad.

WEF is "an annual student run event that brings over 30,000 people together to discover and celebrate sustainable and conscious living on Planet Earth."

WEF hours were 12pm-6pm on Friday, and 9am-6pm on Saturday and Sunday. Our FIN (Festival Identification Number) this year was ED-1423.

(We had a booth in 2002 and 2003, as well.)
---
Our Purpose:
To talk to people about Linux and Open Source, and get the word out about LUGOD and the other local LUGs
To hand out pamphlets containing information about LUGOD, Linux and Open Source
---
Volunteers: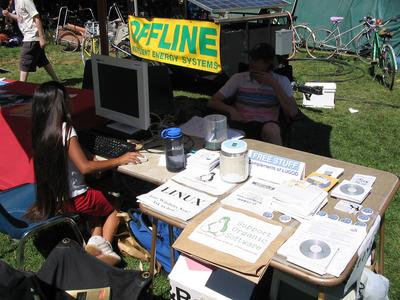 The following people volunteered to help out:
Emily Stumpf
Jan Wynholds
Doug Barbieri
Mike Simons
Daphne Pareas
Jonathan Stickel
Bryan Richter
Allan Hollander
Matthew Lange
Bill Kendrick
Tim Allis
Mikal Saltveit
David King
Jimbo
Rob Rogers
Offline Independent Energy Systems powered our booth using their solar panel.



---
Photos:
Photos from our booth at the 2004 WEF are available online. Enjoy!
---
LUGOD: PO Box 1336, Davis, CA 95617 URL: http://www.lugod.org/projects/wef/2004/index.php
Last updated: 2005 Jan 05 15:23